Birthdays are special occasions, and there's no better way to make someone feel loved and cherished than by throwing them a surprise birthday party. The element of surprise adds an extra layer of excitement to the celebration, making it a day the guest of honor will never forget. In this comprehensive guide, we will walk you through everything you need to know to plan and execute the perfect surprise birthday party. From selecting the right theme and location to budgeting and handling logistics, we've got you covered.
Choosing the Perfect Theme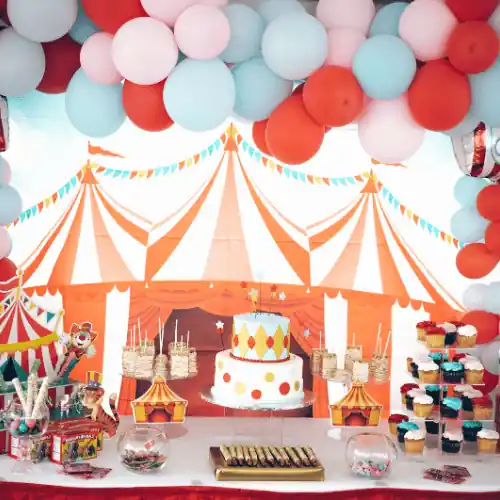 When planning a surprise birthday party, selecting the right theme can set the tone for the entire celebration. Here are some popular themes to consider:
Vintage Hollywood Glamour: Roll out the red carpet and have guests dress up in classic Hollywood attire for a touch of elegance.
Luau/Tropical Paradise: Transport your guests to a tropical paradise with Hawaiian decorations and a tiki bar.
Decades Party: Celebrate a specific era, like the '80s or '90s, with era-appropriate music, fashion, and decor.
Masquerade Ball: Add an element of mystery with masks and formal attire.
Outdoor Picnic: Keep it simple with a relaxed outdoor picnic featuring blankets, baskets, and classic picnic fare.
Personalized Themes
Consider the interests and hobbies of the guest of honor when choosing a theme. Personalized themes show that you've put thought into the celebration. For example:
Favorite Movie or TV Show: Base the party on their favorite film or TV series, with decorations and activities related to it.
Hobby-Based Theme: If they're into gardening, books, or sports, center the party around their hobby.
Travel-Themed: If they love traveling, decorate with maps, globes, and travel-related items.
Color Theme: Choose their favorite color as the main theme and coordinate decorations, attire, and even food around it.
Age-Appropriate Themes
Make sure the theme is suitable for the guest of honor's age. What works for a teenager might not be appropriate for a 50-year-old. Keep it age-appropriate to ensure everyone has a great time.
Setting the Date and Time
Picking the right date and time for the surprise birthday party is crucial. Consider factors like the guest of honor's work schedule, family commitments, and any other significant events.
Weekends: Saturdays or Sundays are popular choices, as most people have free time.
Evening vs. Afternoon: Decide if you want to host an afternoon party with activities like brunch or an evening gathering with dinner and dancing.
Coordinating with the Guest of Honor's Schedule
Covertly gathering information about the guest of honor's schedule is key. Ask close friends or family members to help you discover when they're most likely to be available. Make sure they have no conflicting plans that could ruin the surprise.
Selecting the Venue for Surprise Birthday Party
Home Sweet Home: Hosting the party at the guest of honor's home can be a convenient and personal option. It also makes it easier to maintain the element of surprise. However, if you're planning to host it at their home, ensure they're away for an extended period so you can set up without their knowledge.
Alternative Venue Options: If you'd prefer not to host the party at their home or want to add an extra element of surprise, consider alternative venues:
Restaurant or Cafe: Reserve a private room or section for an intimate gathering.
Event Space: Rent a local event venue for a larger party.
Beach, Park, or Backyard: Outdoor locations can be great for casual gatherings.
Community Center: Check local community centers for affordable rental options.
When choosing a venue, keep the theme in mind and ensure it complements your vision for the party.
Creating the Guest List
Compile a list of the guest of honor's closest friends, family members, and colleagues. Reach out to them discreetly to ensure they can attend on the chosen date. Be sure to include people who hold significant meaning to the guest of honor.
Keeping it a Secret
Maintaining secrecy is essential for a successful surprise party. Share the details sparingly, and use coded language when discussing plans. Encourage guests to keep it a secret as well, and remind them not to post about it on social media.
Invitations and RSVPs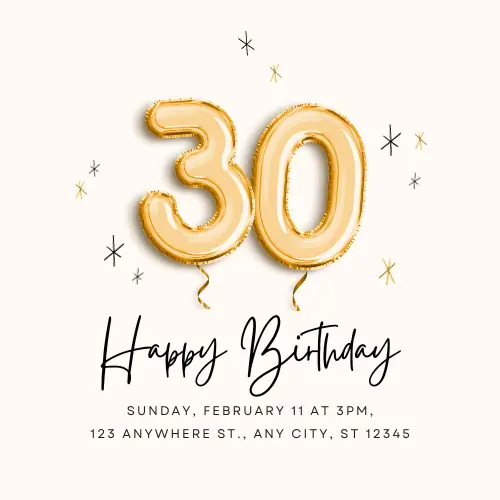 Digital vs. Physical Invitations
Choose between digital invitations (emails, social media events) and physical invitations (mailed or hand-delivered). Digital invites are more eco-friendly and cost-effective, while physical ones can be keepsakes. Ensure your invitation matches the chosen theme.
Handling RSVPs
Set an RSVP deadline well in advance of the party date to allow for proper planning. Use online tools or traditional RSVP cards for guests to confirm their attendance. This information is crucial for catering, seating, and party favor preparations.
Also Read: How to choose perfect birthday cake
Decorations and Ambiance
Trending Decor Ideas
Décor sets the mood, and trending ideas can add a contemporary twist to your party:
Balloon Installations: Create stunning balloon arches, garlands, or bouquets.
Greenery and Floral Arrangements: Incorporate fresh flowers and plants for a natural feel.
Neon Signs: Custom neon signs with the guest of honor's name or a relevant message are a hot trend.
Themed Photo Backdrops: Design a backdrop for photo opportunities that matches your theme.
DIY vs. Professional Decor
Consider your budget and creativity when deciding between DIY and professional decorations. DIY decorations can be cost-effective and personalized, but professional decorators can transform a space into a dream setting. Balance both options for the best results.
Also see: Birthday party decoration complete guide
Food and Drinks
Catering vs. Cooking
Choose between catering and preparing food yourself, depending on your budget and culinary skills. Consider the guest of honor's favorite dishes and dietary preferences when planning the menu.
Catering: Convenient but can be costly.
Potluck: Ask guests to bring a dish to share.
DIY Cooking: Cook or prepare dishes yourself with the help of friends and family.
Dietary Restrictions and Preferences
Be mindful of any dietary restrictions or preferences of the guest of honor and the guests. Ensure there are options for vegetarians, vegans, gluten-free, and other dietary needs.
Entertainment and Activities
Music and Playlist: Create a playlist featuring the guest of honor's favorite songs and music genres. Consider hiring a DJ or live band for a more lively atmosphere. Plan a special song or dance dedicated to them.
Fun Games and Activities: Incorporate fun activities and games that suit the theme and venue. Examples include a trivia quiz about the guest of honor, a scavenger hunt, or a karaoke contest. Activities keep guests engaged and entertained throughout the party.
Gifts and Surprises
Thoughtful Gift Ideas: Select a meaningful gift that aligns with the guest of honor's interests. It could be a personalized item, a sentimental keepsake, or an experience gift like concert tickets or a spa day.
Special Surprises: Surprise the guest of honor with unexpected moments throughout the party. Consider a surprise guest appearance, a heartfelt speech, or a video montage of friends and family sharing their wishes.
Capturing Memories
Hiring a Photographer: Hiring a professional photographer ensures you capture all the special moments. They can discreetly document the surprise, candid reactions, and memorable interactions.
Creating a Photo Booth: Set up a photo booth with props related to the theme. This provides guests with a fun activity and creates lasting memories. Encourage everyone to take pictures throughout the party.
Party Favors and Goodie Bags
Unique Party Favor Ideas: Send guests home with a token of appreciation. Unique party favors can include personalized items like custom keychains, candles, or succulents. These serve as reminders of the special day.
Personalized Goodie Bags: Create personalized goodie bags that match the theme. Include small treats, a thank-you note, and a memento from the party.
Budgeting and Cost
Estimating Costs: Create a detailed budget that includes expenses for decorations, food, entertainment, venue, invitations, and party favors. Factor in unexpected expenses to ensure you stay within budget.
Tips for Staying Within Budget
Prioritize expenses based on importance.
Consider DIY options for decorations and party favors.
Compare prices and negotiate with vendors.
Share costs with willing friends or family members.
Logistics and Planning Timeline
Detailed Planning Timeline: A timeline is crucial for keeping track of tasks leading up to the party:
Months Before: Choose a date, venue, and theme.
2-3 Months Before: Send invitations and confirm RSVPs.
1 Month Before: Plan the menu and entertainment.
2 Weeks Before: Confirm all details with vendors.
1 Week Before: Finalize decorations and party favors.
Day of the Party: Set up the venue, ensure everything is in place, and prepare for the big reveal.
Last-Minute Checklist: Have a last-minute checklist to ensure nothing is forgotten, such as candles, matches, a spare set of house keys, and any surprise elements.
Frequently Asked Questions
Handling Unwanted Guests?
If uninvited guests arrive, have a plan in place to discreetly handle the situation. Designate someone to greet and redirect them, or consider using a secret code to identify approved guests.
Dealing with Cancellations?
Life happens, and some guests might need to cancel last minute. Have a backup plan to adjust seating arrangements and cater to the changes.
What if the Surprise is Ruined?
Even with the best planning, surprises can be spoiled. Be prepared to adapt and make the best of the situation. Remember that the love and effort put into the party will still be appreciated.
Conclusion
Throwing a surprise birthday party is a fantastic way to show someone how much they mean to you. With careful planning, attention to detail, and a touch of creativity, you can create an unforgettable celebration that will be cherished for years to come. Keep the guest of honor's preferences in mind, maintain the element of surprise, and have a backup plan for unexpected situations. Most importantly, have fun and enjoy the process of making someone's special day truly memorable.